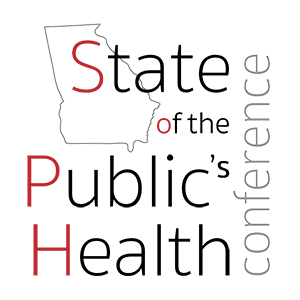 Convening the public health workforce, policymakers, academia, community-based organizations, and others passionate about improving the public's health, the State of the Public's Health Conference aims to drive meaningful, solutions-oriented discussion to advance the health of all Georgians.

Now in its 11th year, the conference will explore approaches to tackle the most pressing public health issues affecting Georgia communities today, including mental health care access, maternal and child health, and health equity.

This work requires a multi-sector, collaborative approach. It requires you. Register today!

This event is organized annually by the University of Georgia College of Public Health and held at the University of Georgia Center for Continuing Education and Hotel in Athens, Georgia.

Event Date:

Thursday, October 27, 2022

Location:

UGA Center for Continuing Education & Hotel
1197 South Lumpkin Street, Athens, GA 30602



Schedule:
8:30 a.m. – 5:00 p.m.

Cost:
Pre-registration on/before 10/20/2022 or until capacity is reached. Once capacity is reached, registration will be closed: $75 (includes lunch)
Onsite registration: $100 (lunch not included)
(No refunds are available.)
Event Cancellation Policies:
(1)There are no refunds available for this event; substitutions are allowed. (2) To change or cancel your registration, call (706) 542-7493, Monday through Friday, 8:00 a.m. to 5:00 p.m. ET. (3) If an event is cancelled for any reason, the UGA Center for Continuing Education & Hotel will not be responsible for any charges related to travel.
Hotel Costs:
Please call (800) 884-1381 or (706) 542-2134 if you need to make, change or cancel a hotel reservation.
Program Contact Information:
Program Contact:
Cindy Humphries
(706) 542-0939
cindyhum@uga.edu
Registration Contact:
The Georgia Center
(706) 542-7493
registration@georgiacenter.uga.edu
Register Online