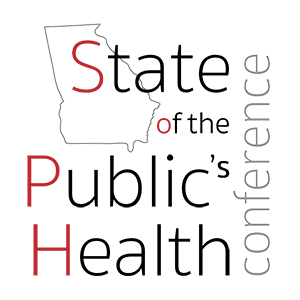 Convening health professionals and others who are passionate about improving the public's health, the State of the Public's Health Conference aims to drive meaningful, solutions-oriented discussion to advance the health of all Georgians.

Now in its 12th year, the conference will explore approaches to tackle the most pressing public health issues affecting Georgia communities today, including rural health, climate and health, homelessness, and health equity.

This work requires a multi-sector, collaborative approach. It requires you. Register today!

View more details at the University of Georgia's College of Public Health conference website.

Event Date:

Thursday, October 26, 2023

Location:

UGA Center for Continuing Education & Hotel
1197 South Lumpkin Street, Athens, GA 30602



Schedule:
8:30 a.m. – 5:00 p.m.

Cost:
$75 (includes lunch) – Pre-registration on/before 10/19/2023 or until capacity is reached. Once capacity is reached, registration will be closed
$100 (lunch is not included) – Onsite registration
Event Cancellation Policies:
A cancellation received by 5:00 p.m. ET on or before October 11, 2023, will be refunded, minus a $35 processing fee. No refunds will be issued thereafter. Substitutions are allowed. (2) To change or cancel your registration, call (706) 542-7493, Monday through Friday, 8:00 a.m. to 5:00 p.m. ET. (3) If an event is cancelled for any reason, the UGA Center for Continuing Education & Hotel will not be responsible for any charges related to travel.
Hotel Costs:
You can reserve a hotel room using room group code 95848 until September 27, 2023. After that date, please call the Georgia Center to request a hotel room with block code 95848. If a room is available, you will receive the group rate.
Note: reserving a hotel room does not register you for the conference. Please use the red box titled REGISTER ONLINE to register for the conference.
Additionally, registering for this conference does not secure a hotel reservation and must be done separately if hotel stay is required.
Please call (800) 884-1381 or (706) 542-2134 if you need to make, change or cancel a hotel reservation.
Program Contact Information:
Program Contact:
Cindy Humphries
(706) 542-0939
cindyhum@uga.edu
Registration Contact:
The Georgia Center
(706) 542-7493
registration@georgiacenter.uga.edu
Special Needs:
If you require special services, contact sales@georgiacenter.uga.edu by October 19, 2023.
Dietary restrictions should be indicated during the registration process.
Register Online