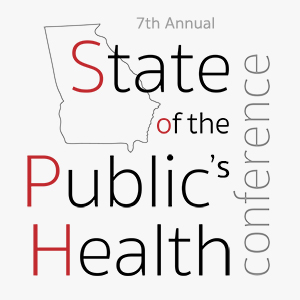 Convening influential leaders from across the state's public health community, the State of the Public's Health Conference is a day-long gathering focused on meaningful, constructive dialogue and practical solutions for Georgia's public health challenges. The conference will include interactive, solution-driven workshops, posters and presentations.

The conference aims to bring together the public health workforce, elected officials, policymakers, academia, community-based health organizations, the business community and others passionate about improving the health of all Georgians. Its goal is to craft a practical, pragmatic plan of action for Georgia's leaders that is realistic about the myriad of opportunities and challenges confronting the public's health in Georgia.

There is a $50 non-refundable registration fee for this conference.

Event Date:

Thursday, October 18, 2018

Location:

UGA Center for Continuing Education & Hotel
1197 South Lumpkin Street, Athens, GA 30602



Schedule:
8:30 a.m. – 5:00 p.m.

Cost:
Pre-registration on/before 10/08/2018 or until capacity is reached. Once capacity is reached, registration will be closed: $50 (includes lunch)
Onsite Registration: $75 (lunch not included)
(No refunds are available.)
Event Cancellation Policies:
(1) There are no refunds available for this event; substitutions are allowed. (2) To change or cancel your registration, call (706) 542-7493, Monday through Friday, 8:00 a.m. to 5:00 p.m. ET. (3) If an event is cancelled for any reason, the UGA Center for Continuing Education & Hotel will not be responsible for any charges related to travel.
Hotel Cost:
You will be given the opportunity to make a hotel reservation as you proceed through the online registration process.
To change or cancel your hotel reservation, call (800) 884-1381 or (706) 542-2134.
Program Contact Information:
Program Contact:
Linda Moak
(706) 542-4042
lmoak@uga.edu
Registration Contact:
The Georgia Center
(706) 542-7493
registration@georgiacenter.uga.edu
Special Needs:
If you require special services, email Nette Penn at by October 11, 2018.
Dietary restrictions should be indicated on the registration form or during the registration process.
Register Online
Downloadable Content
Register by Mail or Fax