Your health matters! Learn how UGA and USG support your well-being
Learn about health and wellness resources within UGA and the University System of Georgia (USG).
Learning Objectives:
Locate wellness resources provided by USG and UGA
Understand the impact of holistic well-being
Presenter: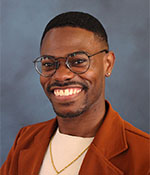 Fredric Creamer, faculty & staff well-being senior program coordinator, UGA Human Resources
Fredric began his professional career with the University of Georgia in October 2018 with UGA Human Resources as a benefits specialist on the well-being team. He has served as a resource to faculty, staff, and students in the consultation of health & welfare benefits offered to eligible individuals. He has since transitioned within UHR as a senior HR managing consultant for inquiry services to his new faculty & staff senior well-being program coordinator role. Fredric engages in the university community through his participation on various committees, notably the finance & administration recognition committee, in support of honoring merit award nominees for their exemplary commitment to campus and recognizing staff for their years of service. He is a native of Athens, GA, a lover of all things anime, and enjoys community engagement by establishing meaningful points of connection with everyone he meets.