Soft skills in the workplace and why they matter
What are the enduring skills that promote stronger teams, more satisfying work experiences, personal growth, and professional advancement? We'll explore what "soft skills" really mean, why employers value them, and how continued development of our soft skills can improve the quality of life for ourselves and those with whom we interact.

Presenter: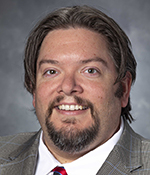 Jason Estep, public service assistant, J.W. Fanning Institute for Leadership Development
Jason is a public service faculty member with the J.W. Fanning Institute for Leadership Development. While focusing on youth leadership development, he has considerable experience with curriculum development, program design and implementation, and evaluation of programs serving diverse audiences, whether youth or adult. Before joining the Fanning Institute, Jason served Georgia 4-H as the state specialist for leadership and civic engagement, responsible for planning, facilitating, and evaluating dynamic educational programs for youth ages 9-19. Before working in youth development, Jason practiced law with large firms in Atlanta, GA, and Washington, DC. He helped train, coordinate, and supervise attorney teams working on corporate litigation, antitrust matters, and government enforcement actions. He received his J.D., specializing in international legal affairs, from Cornell Law School and his bachelor's in English and sociology from Emory University.